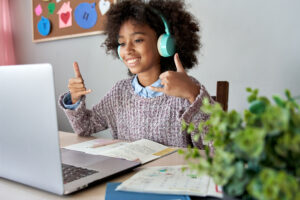 🖥️ Join Our Exciting Summer Computer Classes for Kids! 🌞🖥️
Looking for a fun and educational way to keep your child engaged this summer? Look no further! Our Summer Computer Classes for Kids & Teens are here to ignite their curiosity, boost their skills, and create unforgettable experiences. Sign up today and give your child the tech-savvy advantage they deserve!
🌟 Why Choose Our Summer Computer Classes? 🌟
1️⃣ Expert Instructors: Our classes are taught by experienced and passionate instructors who love working with kids. They provide personalized attention and ensure every child's success.
2️⃣ Engaging Curriculum: Our carefully designed curriculum strikes the perfect balance between learning and fun. From coding to App development to 3D Animation, we cover it all!
3️⃣ State-of-the-Art Online Facilities: Your child will learn in a dynamic and innovative environment equipped with the latest technology and tools, providing them with a hands-on experience.
4️⃣ Small Class Sizes: We maintain small class sizes to guarantee individual attention and foster a collaborative learning environment. Every child gets the opportunity to shine!
5️⃣ Age-Appropriate Classes: Our program offers courses for different age groups, ensuring the content is tailored to suit your child's skill level and interests.
6️⃣ Building Lifelong Skills: Our computer classes go beyond coding and technology. They promote problem-solving, critical thinking, creativity, and teamwork – skills that will benefit your child throughout their lives.
7️⃣ Fun Projects and Challenges: Get ready for an exciting summer filled with hands-on projects, team challenges, and opportunities to showcase your child's creativity. We encourage their imagination to soar!
📆 Limited Spots Available – Sign Up Now! 📆
Don't miss out on this amazing opportunity for your child to become a tech whiz! Secure their spot in our Summer Computer Classes today!
📧 Email manager@samantechsolutions.com for more information or register now!
🌞🖥️ Give your child a summer they'll never forget! Join us for our Summer Computer Classes and let their potential shine! 🌞🖥️